Tuesday, December 10, 2013 Saatchi Online Taps Sean Moriarty As CEO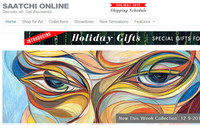 Los Angeles-based online art gallery and e-commerce provider Saatchi Online has tapped one of LA's technology and business veterans as its new CEO today, tapping Sean Moriarty for the position. Moriarty is an active investor and advisor to many of LA's startup companies and headed up Ticketmaster Entertainment from 2000 to 2008, including heading up that company's spinout from IAC/InterActiveCorp and its IPO. Moriarty's investments include TuneIn.com, Eventbrite, and Metacloud, and Triton Digital. Saatchi Online offers up an online, art gallery where users can purchase paintings, drawings, sculptures, and phtoography.
Get More SocalTech Data
Try our two week free trial to find new tech customers, find high tech startups and jobs, find venture funding, and more!
Learn More
---
---